Looking for something to do this weekend?
There is plenty going on in the Ripon area, which includes an opportunity to purchase Girl Scout cookies, a Vintage Shop Hop, plenty of live music, artist reception, artisan marketplace and a farm toy & craft show.
Check out more information below:
RAFD Chicken BBQ — Sunday
The Ripon Area Fire District will hold their annual Chicken BBQ this Sunday at the fire station in Ripon at 515 Aspen St.
The event runs from11:30 a.m. to 1:30 p.m. It is the biggest fundraiser of the year for the department and allows them to purchase equipment that isn't budgeted for.
Tickets are $11 in advance and $12 at the door. Children under 10 can eat free. You can eat in, drive through, carry out or have it delivered.
For delivery call 920-745-2262. Phone orders will be accepted Saturday from 9 to 11 am and Sunday from 9 a.m. to Noon.
Advanced tickets are available at the fire station today from 9 a.m. to 3 p.m. or from any Fire Department member, at ACE Hardware, Webster's, and other businesses around town.
Girl Scout cookies are coming to Webster's
It's Girl Scout cookie time again. The Ripon Area Girl Scout troops have Girl Scout cookies for sale for individuals who haven't had the opportunity to buy Girl Scout cookies, didn't order enough cookies or ate theirs already.
The Ripon Area Girl Scout Cookie Booth Weekend will run Friday to Sunday at Webster's Marketplace in Ripon.
Cookie sales have adapted to the times for Girl Scouts, with more online sales than ever. However, cookie booths are still a favorite way for customers to buy cookies.
The Girl Scout Cookie Booths will run Friday from 5:30 to 7 p.m., Saturday from 8:30 a.m. to 2:30 p.m and Sunday from 9 a.m. to 3 p.m.
Favorites such as Thin Mints, Toast-Yay!, Lemonades, Caramel deLites, Peanut Butter Patties, Peanut Butter Sandwiches and Shortbread will be available for $5 a box. Adventurefuls, a new indulgent brownie-inspired cookie with caramel-flavored crème and a hint of sea salt also is offered for $5 a box.
The gluten-free Caramel Chocolate Chip cookies are returning, but in a limited supply. They sell for $6 per package.
The Girl Scout cookie sale is the primary fundraiser for each troop's activities, including earning badges, community service projects, trips and camps. Girl Scouting's mission is to build girls of courage, confidence and character, who make the world a better place.
During Girl Scout cookie season, each G.I.R.L. (Go-getter, Innovator, Risk-taker, Leader) sets out to sell cookies while also building entrepreneurial and business skills that are imperative for leadership and future success.
The net revenue raised stays within the area. Councils use cookie earnings to power experiences for girls through their programming, while girls and their troops decide how to invest in community projects and personal-enrichment opportunities.
To find out other times and locations when Girl Scouts are selling cookies, visit www.gsnwgl.org/cookies or use the official Girl Scout Cookie Finder app, free on iOS and Android devices.
Downtown Ripon shops will participate in the Vintage Shop Hop Friday and Saturday

The Vintage Shop Hop is a self-guided road trip of vintage & boutique shopping. The event is gathering 400 vintage shops and antique store owners, along with women's boutiques & home decor shops in northern Illinois and southern Wisconsin to roll out the red carpet for customers Friday and Saturday.
Interested parties just have to gather their friends and head out. The Vintage Shop Hop provide a list and map. Each shop will offer its own promotion — fun things like discounts, demonstrations, artists on-site, prize drawings, treats, wine tastings, entertainment, punch cards, parking lot sales and more … whatever they want to offer to customers.
Use this handy Google Map to plan your trip. Vintage Shop hoppers can pull it up on their mobile device as they shop, making it easy to hop from shop to shop! And because it's a Google Map, they also can see restaurants, points of interest, gas stations and more. There also is a Master List of Shops that are categorized into mini-regions for easy traveling from one to the next.
Find the list here: https://bit.ly/MasterListOfShops
Find the map here: https://bit.ly/VSHMarch2022Map
How do I use the map?
The map is built inside of Google Maps software. That means …
1) the first step is to download the Google Maps app onto a smartphone or device.
2) Then, in order for the map to be completely 'interactive' (like a GPS), individuals need to log in to a Google account (or create one).
3) Next, come back to this page or the blog and click the map link below. It will now open inside Google Maps, giving individuals all the Google features. Now, interested parties should be able to "see" their car moving along the roadway.
They can search for anything on the map along the way, like gas stations, restaurants, fast food, hotels, etc.
Stephanie Leisering is Town Square's March lobby gallery artist; artist reception set for Friday
The work of fiber and collage artist Stephanie Leisering will be featured throughout the month of March in the Town Square Lobby Gallery, with an artist reception set for Friday, from 5 to 6 p.m.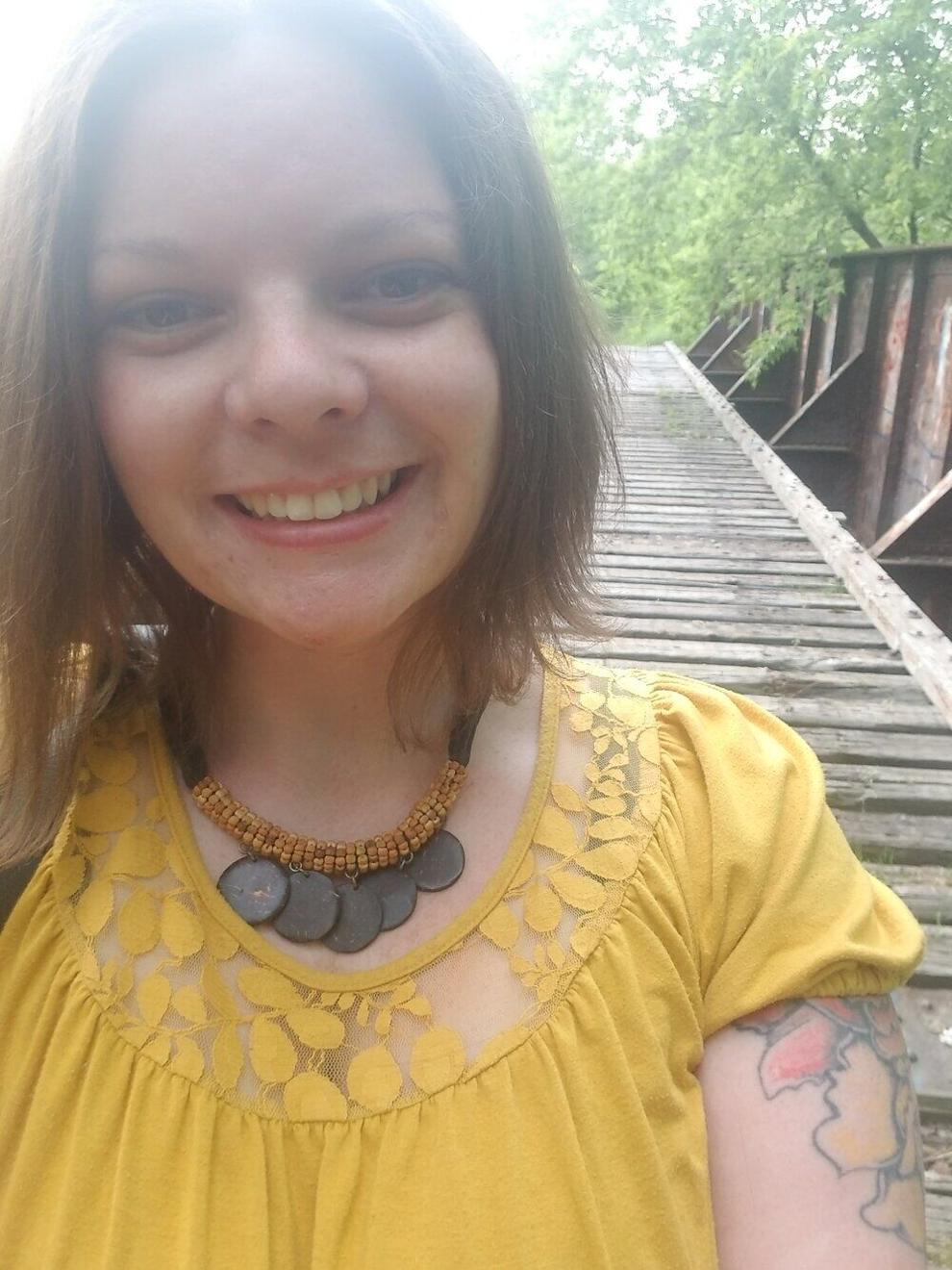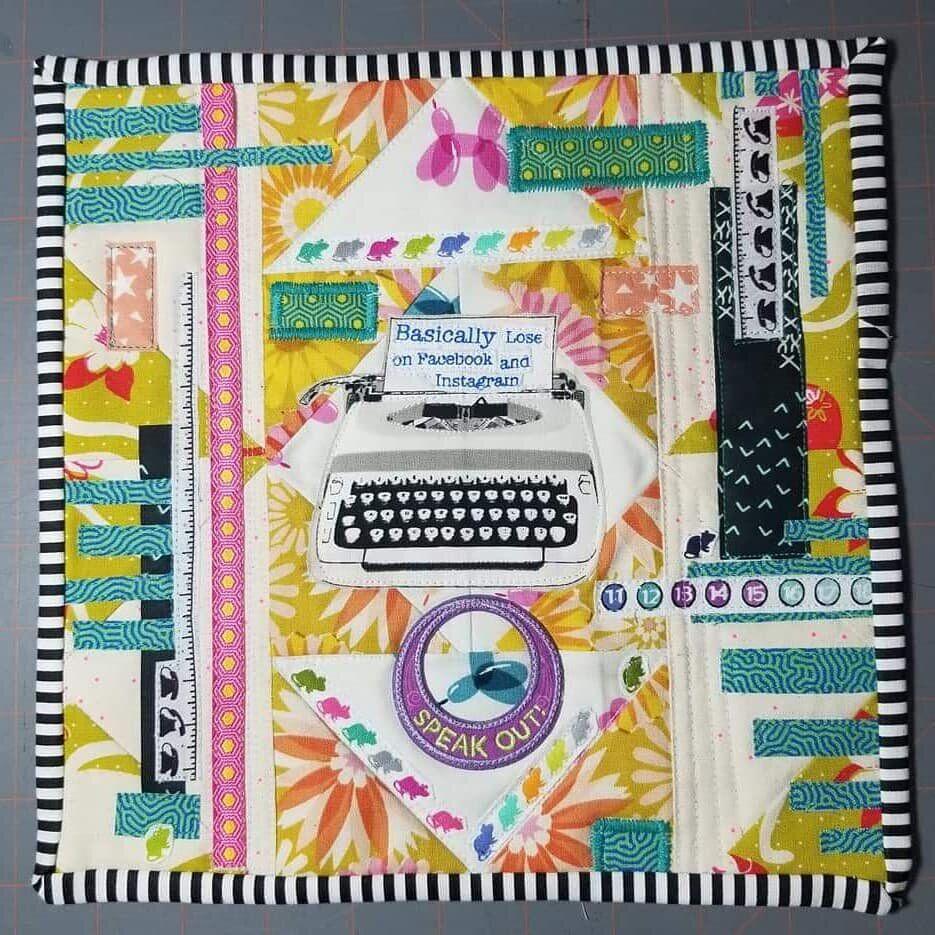 Leisering uses various mediums in her work, including fiber, acrylic paintings, collages and mixed media. She was taught at a young age to express her creativity through collages made from magazine clippings.
"I have always continued with that idea in my art, of layering and adhering multiple layers together either by means of gluing or sewing them together," she said. "Currently, I have been experimenting with modern quilting and art quilts which, to me, can be more like a fabric collage and then you can also 'draw with thread.'"
Leisering finds inspiration at thrift stores, art supply stores and quilt shops, as well as images from 1980's and 1990's popular culture.
"Some of my works may have images from cut-up or salvaged magazines, toys, T-shirts, books, and objects that I had or even may have wanted as a child growing up," she said.
The Illinois native studied sculpture and painting at the University of Wisconsin-Fox Valley and earned her bachelor of fine arts degree from The Peck School of the Arts at the University of Wisconsin-Milwaukee.
Leisering is a member of The Modern Quilt Guild and a member of The Fond du lac Artists Association.
Town Square Community Center is devoted to showcasing local artists, and the Lobby Gallery is one of Green Lake's popular showcase for the latest works of the area's most outstanding artists.
For more information, visit Town Square Community Center or call 920-807-0008.
Acclaimed jazz trio will perform Friday at Ripon College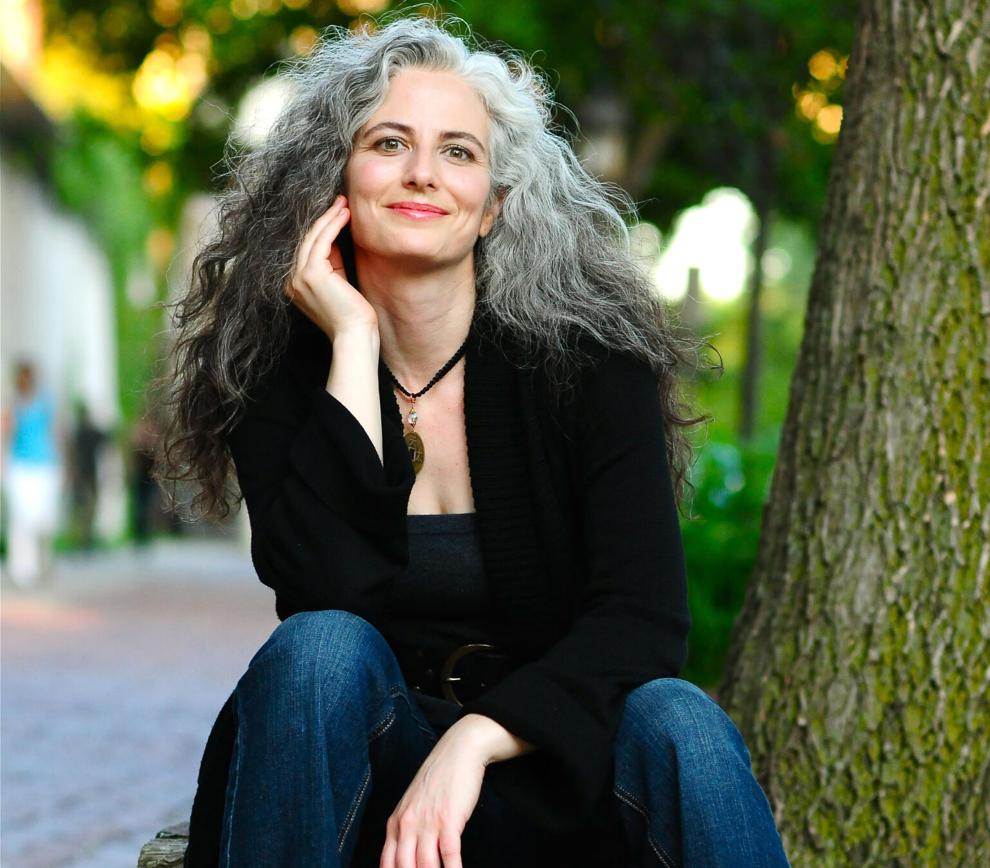 The Mary Louise Knutson Trio will perform Friday at Ripon College as part of the Chamber Music and Jazz at Ripon series.
The concert will begin at 7:30 p.m. in Demmer Recital Hall of the C.J. Rodman Center for the Arts.
The trio will present a concert of jazz works. Knutson also will lead an open masterclass with the Ripon College Jazz Ensemble under the direction of professor Paul Dietrich at 4:15 p.m. that afternoon.
Because of donations from Ripon's Friends of the Arts, events in the Chamber Music and Jazz at Ripon Series are free and open to the public.
At this time, Ripon College requires that masks be worn for all indoor gatherings.
Knutson, a jazz pianist-composer, has been called "one of the most exciting artists to happen to jazz piano in quite some time." Her warm, inviting tone, broad range of emotional expression, and distinctive compositions have brought her much recognition on the national music scene.
The music of the Mary Louise Knutson Trio has been described by JazzTimes as "state-of-the-art piano trio finery" and by the Star Tribune of Minneapolis/St. Paul as "timeless, classic piano trio music, right up there with Bill Evans and Bill Charlap."
Knutson regularly performs in the Minneapolis-St. Paul area with her trio at clubs, festivals, concert halls and private events; also with vocalists Connie Evingson, Patty Peterson of Jazz Women AllStars, and instrumental groups including the JazzMN Orchestra and the Minnesota Orchestra.
From 2010-2018, she toured with trumpeter Doc Severinsen, former bandleader for "The Tonight Show starring Johnny Carson," and also has performed with such jazz greats as Dizzy Gillespie, Bobby McFerrin, Dianne Reeves, Kevin Mahogany, Ernie Watts, Randy Brecker, Mike Stern, Nicholas Payton and Slide Hampton.
Knutson's latest CD, "In the Bubble," made JazzWeek's Top 10 and stayed in the Top 50 for 19 consecutive weeks. In 2006, she was a Minnesota Music Awards nominee for both Jazz Artist of the Year and Pianist of the Year, and in 2005, she was a finalist in the Kennedy Center's "Women in Jazz" International Pianist Competition.
More information is available on her website, MaryLouiseKnutson.com.
Live music featuring John Gay at Vines & Rushes Winery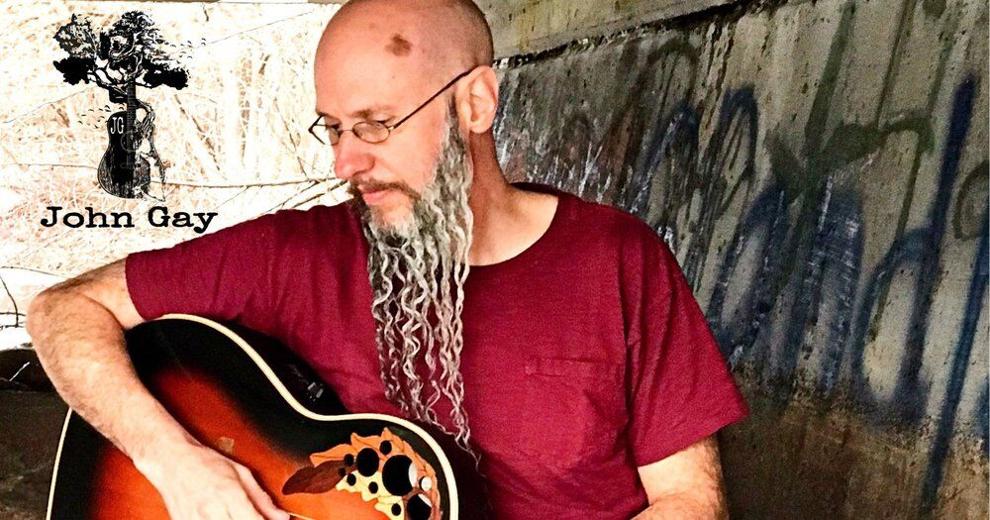 John Gay, a gritty blues guitarist, will perform Friday from 5:30 to 8:30 p.m. at Vines & Rushes Winery.
Attendees may select their favorite wine, cider or Knuth Brewing Co. craft beer, custom order a wood-fired pizza, and sit back and enjoy the music.
Wood fired pizza is served from 4 to 8 p.m.
Emmy-nominated band Gangstagrass is coming to Thrasher
Best known as the Emmy-nominated makers of "Long Hard Times To Come," the theme song to the hit FX drama, "Justified," Gangstagrass will perform Friday, March 4 at 7:30 p.m. at Thrasher Opera House.
Blending bluegrass, electro beats and hip-hop seems like an unlikely recipe for success, but that mix has taken Gangstagrass to the top of the bluegrass charts. Its recent live album spent almost 20 weeks in the top-10. The band packs concert halls, rock and country music clubs and festivals with live shows featuring its hybrid of jam-band improvisation, bluegrass chops and rapping.
"In an era when the social, racial, musical and economic divisions between Americans have become more strained, Gangstagrass is providing a glimpse of the kind of conversations about race and power that we could be having if we were ready to listen," Thrasher Opera House said in a release.
This event is supported in part by a grant from the Oshkosh Area Community Foundation and the Wisconsin Arts Board with funds from the State of Wisconsin and the National Endowment for the Arts. It also is funded in part by a grant from the Green Bay Packers Foundation.
Tickets for the concert are $25 and available at www.thrasheroperahouse.com or by calling the office at 920-294-4279.
Vines & Rushes host Artisan Marketplace
Get your shopping lists ready.
Vines & Rushes first Artisan Marketplace will be held Saturday from 10 a.m. to 4 p.m. The winery's Great Room will be transformed into a marketplace with vendors displaying their handcrafted items.
Participating vendors include The Amber Fox Freshie Farm, Ted David, Teacher Works, Auburn Woods, Honey Buzz, Schmitz Family Crafts, The Curated Carrot, IndiviJulie, Trisha's GotRoots and Custom Cabinetry by Tony.
Wood-fired pizza service is offered from 11 a.m. to 8 p.m., along with Vines & Rushes wine or Knuth's Craft Beer.
FFA Farm Toy & Craft Show returns to Markesan
The 34th-annual Markesan FFA Alumni Farm Toy & Craft Show returns to Markesan High School Sunday, March 6 from 9 a.m. to 3 p.m.
Admission is $5 for ages 5 and up, while those 4 and under get in free. Individuals who bring in two non-perishable food items will get in for $1.
A pedal tractor pull for all ages will take place, with weigh-in from 11 a.m. to 1 p.m. and the pull starting at 1 p.m.
A basket raffle also is slated from 9 a.m. to 2 p.m.
Farm displays are welcome, with special prizes for junior divisions. 8-feet tables are $10 and extra tables are $5 each.