In June, a new art and events pop-up, Queer Arts Featured (a.k.a Queer A.F.), will be opening in the former HRC Store (also Harvey Milk's one-time camera store) at 575 Castro Street.
Just in time for Pride Month, Queer A.F. plans to host a grand opening on June 10. The art gallery is founded by queer photographer Devlin Shand, his partner Fadi Salah, and Erika Pappas.
The art gallery pop-up will be at 575 Castro for six months. "It's an art gallery, boutique, and gathering events space," explained Shand.

Queer A.F. will be opening June 10 at 575 Castro St. | Photo:  Steven Bracco/Hoodline
"We wanted it to feel like home," added Shand. "A space for people to come and be creative."
Shand says the space has been divided up into three sections.  The front space has been made to feel like a living room with antique and reclaimed furniture. While the middle of the space is where an artists' and makers' boutique will be with long tables and a display area full of crafts, prints, jewelry, and accessories. All of the art will be from local queer Bay Area artists.
In the back, there will be a rotating monthly gallery exhibition space. Shand says they just closed their artists' applications and are working through them to decide who will be showing in the space. Each show will have one to three artists and it will change out every month. 
In order to provide access and reduce financial barriers, Queer A.F. will take half the standard commission rate of 40%. "We want to make sure as much of the profit goes back to the artists," said Shand.
Shand said that is a big reason why they have started a crowdfunding campaign to raise funds for the art gallery. As of publication, a GoFundMe started by Shand has raised $33,382 of its $70,000 goal.
Originally Shand planned to open Queer A.F. on June 3 but he told Hoodline that there was a delay. "We decided to push because our first featured gallery artist will be out of town for the 3rd and to ensure we have all our stock in store and ready to present," said Shand.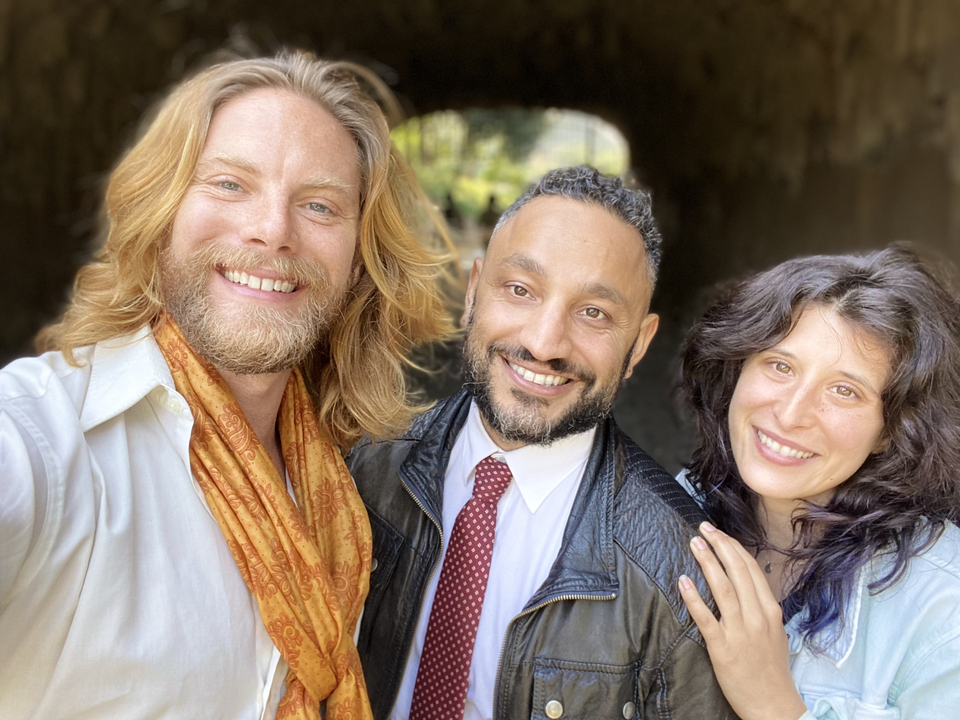 Queer A.F. co-founders Devlin Shand (left), Fadi Salah (center), and Erika Pappas (right). | Photo courtesy of Devlin Shand
Shand tells Hoodline he got the idea to open Queer A.F. after a photography series he was set to mount in March 2020 was canceled by the Covid-19 pandemic. "I was looking around the Castro to see if there was somewhere that would be open to allowing me to turn it into a gallery space."
While the storefront for over a decade had been home to a Human Rights Campaign (HRC) merchandise store, it was once the home of the camera store out of which Harvey Milk did much of his early political work. Currently, the storefront is being considered to become a National Park Service site. It is already registered as a San Francisco city landmark.
"I really thought about the gravity and legacy of the space," said Shand. "In the 70s it was a also central spot for gay men to land in the Castro to feel seen and find community."
"We really wanted to bring that energy back into the space and make it a spot for people who don't see themselves fully represented or celebrated in the Castro," added Shand.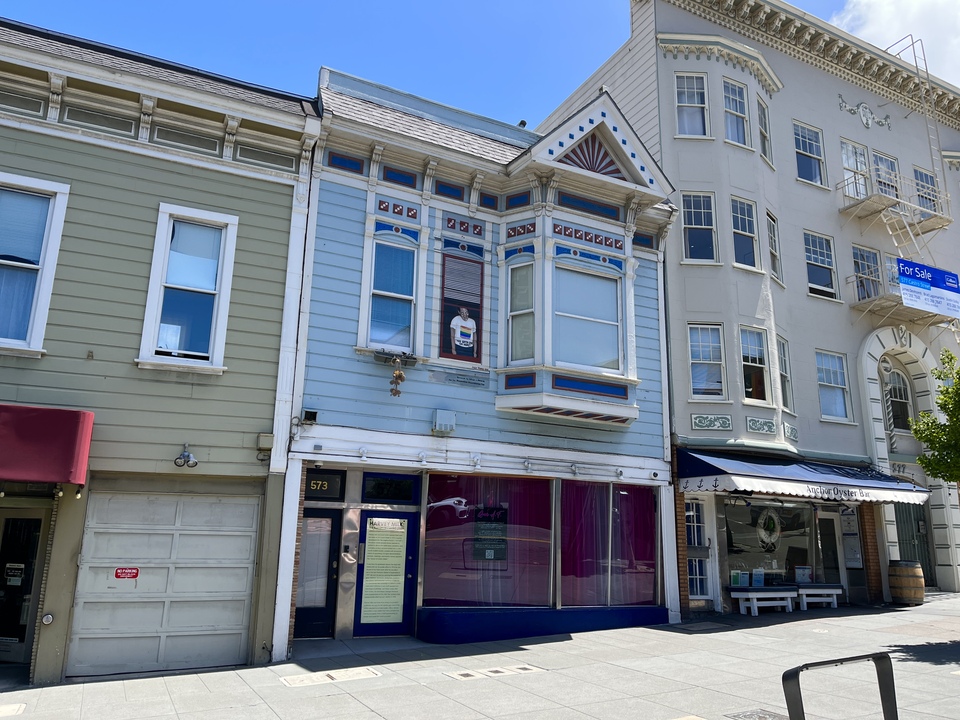 Photo: Steven Bracco/Hoodline
Last summer, a Pride Flag pop-up art exhibit "In Their Own Voices" was installed in the windows at 575 Castro St. The exhibit was a partnership between the Gilbert Baker Foundation and the GLBT Historical Society.
"We left it up as long as we could," said Shand. Shand tells Hoodline they recently took down the display and have no plans to reinstall the exhibit.
Instead, Shand says Queer A.F. plans to have a timeline and another kind of history lesson inside the art gallery. "When people come by they read the whole installation," said Shand. "We definitely want to provide some sort of historical information moment."
GLBT Historical Society interim executive director Andrew Shaffer and Gilbert Baker Foundation president Charley tell both told Hoodline there were no plans to install "In Their Own Voices" at a new location.
Shand said they are currently in discussion with the landlord about the possibility of staying longer than six months. Should that not work out, Shand plans to remain in the Castro. "Regardless, we're building something that's going to carry on past the six months," said Shand.
Queer A.F. plans to be open from Thursday to Sunday, with additional events planned in the evenings on other days of the week.